Wednesday @ Rosenberg Library Ann Weisgarber with a Preview of HGO's The Root of the Wind is Water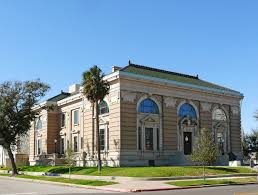 On Wednesday, Rosenberg Library will be hosting a special visit from Ann Weisgarber. She will talk about the extensive research on Galveston and the 1900 Storm that she did for her novel--much of which was conducted in that very library, so it will be a homecoming of sorts. What is more, the program will open with a special preview of Houston Grand Opera's The Root of the Wind is Water which tells the story of a woman who refuses to leave her home as a hurricane surges toward Galveston. It draws on the legacy of the 1900 storm as well as Hurricane Ike.
If you haven't stopped by the Gulf Coast Reads Facebook page, you should take a moment to do so. We posted an album today of photos from recent events including pics of Ann and friends cutting a rug for Fort Bend County Libraries - Sugar Land Branch's Dancing the 1900s program with dance instructors Bernardine and Loy Farmer.
Researching The Promise with Ann Weisgarber
Rosenberg Library - Wortham Auditorium
2310 Sealy Ave in Galveston
Wednesday, October 21
2:00 - 4:00 p.m.
409-763-8854